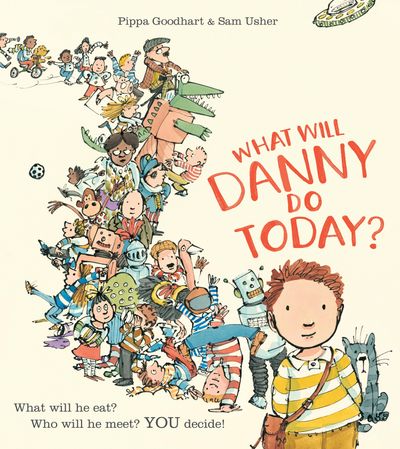 What Will Danny Do Today?
Danny has a busy day ahead of him. What will he eat? Who will he meet? In this book YOU DECIDE what happens!
Can YOU help Danny choose whether to have juice or jelly for breakfast, travel to school on the bus or in a spaceship, and create a robot or skyscraper in art?
From the bestselling author of You Choose comes a unique new picture book in which well-placed questions combine with charmingly detailed and surprising illustrations to help children open up about their daily experiences. Beautiful, Quentin Blake-esque artwork from rising star Sam Usher, author of Can You See Sassoon? and Snow.
Pippa Goodhart is the author of the You Choose and Just Imagine books which have sold over 175,000 copies in the UK alone. She has been longlisted for the Kate Greenaway Medal, won the 2011 Mumsnet Children's Book of the Year for 3-4 Year Olds and was shortlisted for the Smarties Prize and the Young Telegraph book of the Year.
Sam Usher is published by Templar, Little Tiger and Orion in the UK, and his work is published in many countries all over the world. His first book, Can You See Sassoon?, was longlisted for the Kate Greenaway Award and shortlisted for the Read it Again! award, the Red House Children's Book Award and the Waterstones Children's Book Prize.