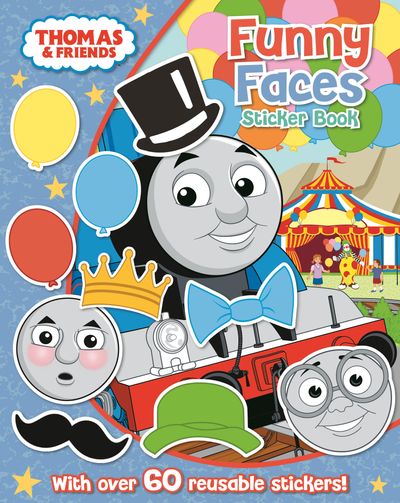 Thomas The Tank Engine Funny Faces Sticker Book: `
Join Thomas and his friends on the Island of Sodor in this amazing Funny Faces Sticker Book!
Kids will love using their imagination to mix and match the stickers to create lots of different funny faces!
With over 60 reusable stickers, this fun sticker book allows children to create hilarious faces by mixing and matching stickers, including hats, glasses, hair, bow ties and moustaches! Perfect for little ones ages 3 and up.
Thomas & Friends is a great way to pass on the tradition of Thomas to early readers. Children aged 2 and up will love meeting classic characters such as Percy, James, Gordon, and Toby down on The Fat Controller's railway.
Also look out for: Thomas & Friends Busy Days Away Activity Book, Well Done Thomas Activity Book
Thomas has been teaching children lessons about life and friendship for over 70 years. He ranks alongside other beloved character such as Paddington Bear, Winnie-the-Pooh and Peter Rabbit as an essential part of our literary heritage