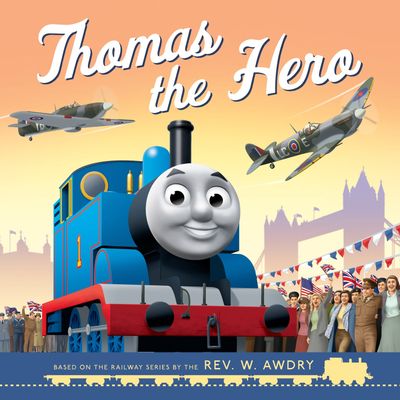 Thomas & Friends: Thomas the Hero: VE Day
When Thomas the Tank Engine sees a vintage plane flying over he is fascinated and follows it all the way to the airfield. There he meets many wonderful planes and learns all about the part they played in the war. Thomas wishes he could be a hero too. Then when one of the planes crash lands in a pond it's time for Thomas to come to the rescue.
Perhaps he can be a hero after all.
Thomas has been teaching children lessons about life and friendship for 75 years. He ranks alongside other beloved characters such as Paddington Bear, Winnie-the-Pooh and Peter Rabbit as an essential part of our literary heritage.
Other picture books about Thomas the Tank Engine include:
Thomas & Friends: Thomas and the Dinosaurs 9781405293112
Thomas & Friends: Thomas and the Spring Surprise – 9781405292917
Thomas & Friends: A Day at the Football – 9781405289238
Thomas & Friends: A Visit to London for Thomas the Tank Engine – 9781405281263