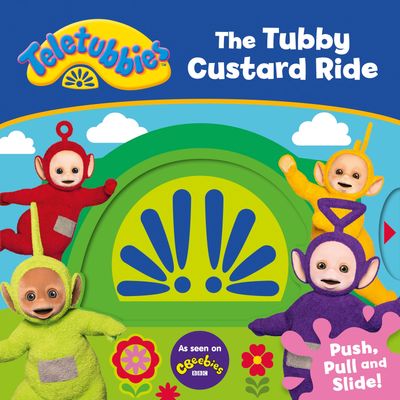 Teletubbies: The Tubby Custard Ride
Say 'eh-oh' to the Teletubbies: Tinky Winky, Dipsy, Laa-Laa, and Po!
Help Tinky Winky, Dipsy, Laa-Laa and Po go up and down in the Dup Dup and round and round on the Tubby Custard Ride.
Little children will love to push, pull and slide the fun tabs and join in the simple Teletubbies story. The bright pictures and simple rhyming text are perfect for infants and toddlers.
The Teletubbies are back and all set to enchant a new generation of babies and toddlers. The Teletubbies are a great way to introduce little ones to early learning concepts such as colours, counting and numbers. The colourful world of Teletubby land is especially designed to capture little imaginations. Perfect for kids aged 1+.
Have you collected all of the Teletubbies' adventures?
Teletubbies: A Rainy Day
Teletubbies: Favourite Things
Teletubbies: Let's Go Up and Down
Teletubbies: Magic Watering Can
The Teletubbies joins the ranks of CBeebies favourites such as Something Special, The Lingo Show, and In the Night Garden.