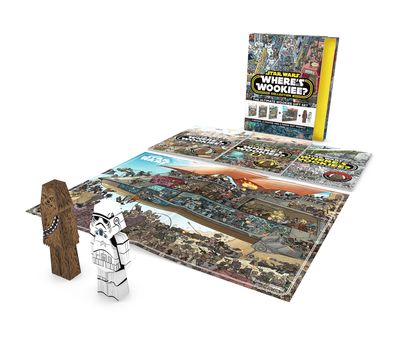 Star Wars Where's the Wookiee Collection: Gift Box
Chewbacca is on the run! The mighty Wookiee rebel is being trailed by ruthless bounty hunters and the evil Empire right across a galaxy far, far away … Can the furry fugitive give his pursuers the slip?
This bumper box set contains two Where's the Wookiee? search-and-find books packed with characters and scenes from the Star Wars saga. See if you can spot the hairy hero hiding everywhere from the depths of the Death Star to the sinister Starkiller Base, and look out for familiar faces like Han Solo, Boba Fett, and BB-8.
Also contained in this set is a Where's the Wookiee? colouring book, with eleven fantastically detailed scenes to finish, a full-colour Where's the Wookiee? wall poster, and two cardboard models to press-out and make. It's the perfect gift for fans of all ages!
A galaxy far, far away has never been so, well, near with our exclusive selection of Star Wars books.
Read More
This Christmas we've put together a list of some of our favourite books that are more than just a story - the perfect gifts this Christmas for all readers, whether they're new, reluctant or experienced.
Read More