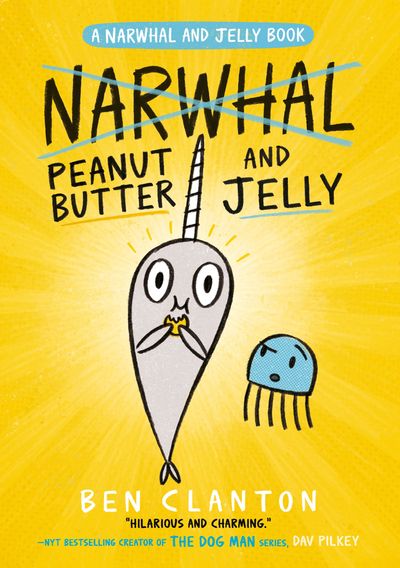 Peanut Butter and Jelly
(Narwhal and Jelly 3)
'Hilarious and charming. The most loveable duo since Frog and Toad' – Dav Pilkey, bestselling author of Dogman and Captain Underpants
Narwhal and Jelly are back and Narwhal has a new obsession … peanut butter! He's so obsessed he even wants to change his name to … that's right … Peanut Butter! Ever-sensible Jelly isn't so sure that's the best idea, but is all for Narwhal trying new things (instead of just eating waffles all the time, no matter how delicious waffles are).
A wonderfully silly early graphic novel series featuring three short stories about trying new things, favourite foods and accepting who we are.
The perfect first book for young readers, just moving on from picture books, discovering the joys of friendship, working together and the power of imagination.
PRAISE FOR Narwhal: Unicorn of the Sea:
'Undersea adventures have never been so darn cute …. The incessant charm and unabashed joy should make this an easy sell. Swimmingly delightful and a guaranteed smile-maker' – Starred Review, Kirkus Reviews
'An utterly enchanting start to a series that's bound to be popular among young readers' – Starred Review, School Library Journal
'Geez, Narwhal and Jellyfish are adorable. There's no other word as appropriate for this duo& readers will likely clamour for the next outing' – Starred Review, Bulletin of the Center for Children's Books
'Bantering dialogue entertains throughout, but the book's best moment might belong to the third story, when Narwhal lends Jelly his "favourite book in the whole wide water, which is blank…". "It's an imagination book, Jelly!… Narwhal explains. Readers ready for underwater goofiness of the non-SpongeBob variety will be eager for more adventures from this duo' – Publishers Weekly
Ben Clanton is the author/illustrator of the NARWHAL AND JELLY early graphic novel series as well as IT CAME IN THE MAIL, VOTE FOR ME!, and REX WRECKS IT. When Ben isn't doodling up stories (and often when he is) he likes to cook, explore outdoors, and play basketball. Ben lives in Tacoma, WA with his wife, son and goldendoodle pup. Find out more about Ben at www.benclanton.com. And visit Narwhal and Jelly at their o-fish-al page www.narwhalandjelly.com