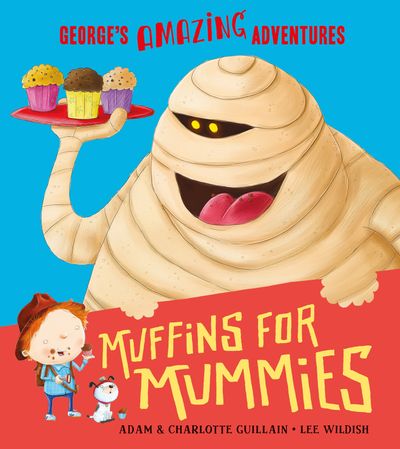 Muffins for Mummies
(George's Amazing Adventures)
George bravely explores the museum to see,
Who's been stealing the cakes on the sly.
It could be the mammoth – or maybe the knight?
Or that mummy who's lurking nearby …
Join George for a Night at the Museum-style adventure in the latest title in the bestselling picture book series George's Amazing Adventures. This time someone's been stealing cakes from the museum café and George (armed with 25 muffins as bait) is off to crack the crime!
Can George and his faithful puppy Trixie track down the criminal without getting squashed by a great big mammoth?
Another fast-paced rhyming picture book tale from husband and wife duo Adam and Charlotte Guillain, whose George's Amazing Adventures titles have won several awards including Gold in the Practial Pre-School Awards and Highly Commended in the Junior Design Awards. Adam and Charlotte's joyful rhyming text is great fun to aloud and offers the perfect picture book fun for children aged 3 years old and up.
Winner of the Mumsnet Rated Badge:
Of 49 Mumsnet testers 88% would recommend Muffins for Mummies to a friend or family member and 84% would buy another book by the same authors.
All of George's adventures are available to collect with brilliant new bright covers. Find more treats and daring feats in:
Spaghetti with the Yeti,
Marshmallows for Martians,
Doughnuts for a Dragon,
Pizza for Pirates,
Socks for Santa
Treats for T. rex
Praise for George's Amazing Adventures series:
'Adam Guillain, Charlotte Guillain and Lee Wildish have worked together to create a completely engaging and entertaining world'
The Bookbag
Adam Guillain is a performance storyteller and was the Roald Dahl Museum and Story Centre Writer in Residence. Charlotte Guillain taught English to air traffic controllers and nurses before deciding a career in publishing would endanger fewer lives. They have written several books together including Supermarket Gremlins, School for Dads and the George's Amazing Adventures series. The first title in the series, Spaghetti with the Yeti, was nominated for nine awards including the Roald Dahl Funny Prize and has co-editioned in seven territories.
Lee Wildish lives in Lancashire and has been illustrating from a very young age. He loves illustrating children's books and thinks there's nothing better than seeing people laughing at a book he's illustrated. His titles include The Spooky Spooky House which was the winner of the Red House Children's Book Award 2013, and the New York Times Bestselling How to Babysit a Grandpa.