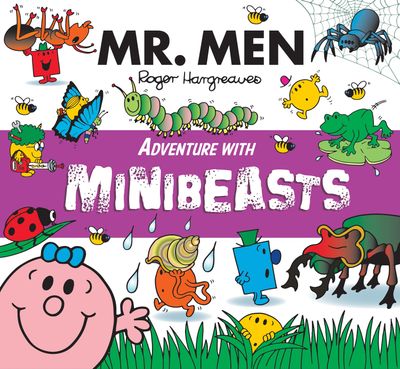 Mr. Men Adventure with Minibeasts
(Mr. Men and Little Miss Adventures)
The Mr Men and Little Miss are about to get a whole lot smaller in this exciting new adventure!
Little Miss Tiny has lost her thimble and she needs help to find it. Who better than Little Miss Inventor with her shrinkometer and small search party! So begins an adventure in the garden with some giant minibeasts and very tiny Mr Men and Little Miss!
The Mr Men and Little Miss Adventures take Roger Hargreaves' beloved characters on amazing trips to other worlds and different times where they have all kinds of funny and exciting escapades.
Mr. Men Adventure with Dinosaurs
Mr. Men Adventure with Pirates
Mr. Men Adventure in the Jungle
Mr. Men Adventure under the Sea
Mr. Men Adventure in Space
Mr. Men Adventure in Magicland
Mr. Men Adventure with Superheroes
Mr. Men Adventure in the Ice Age